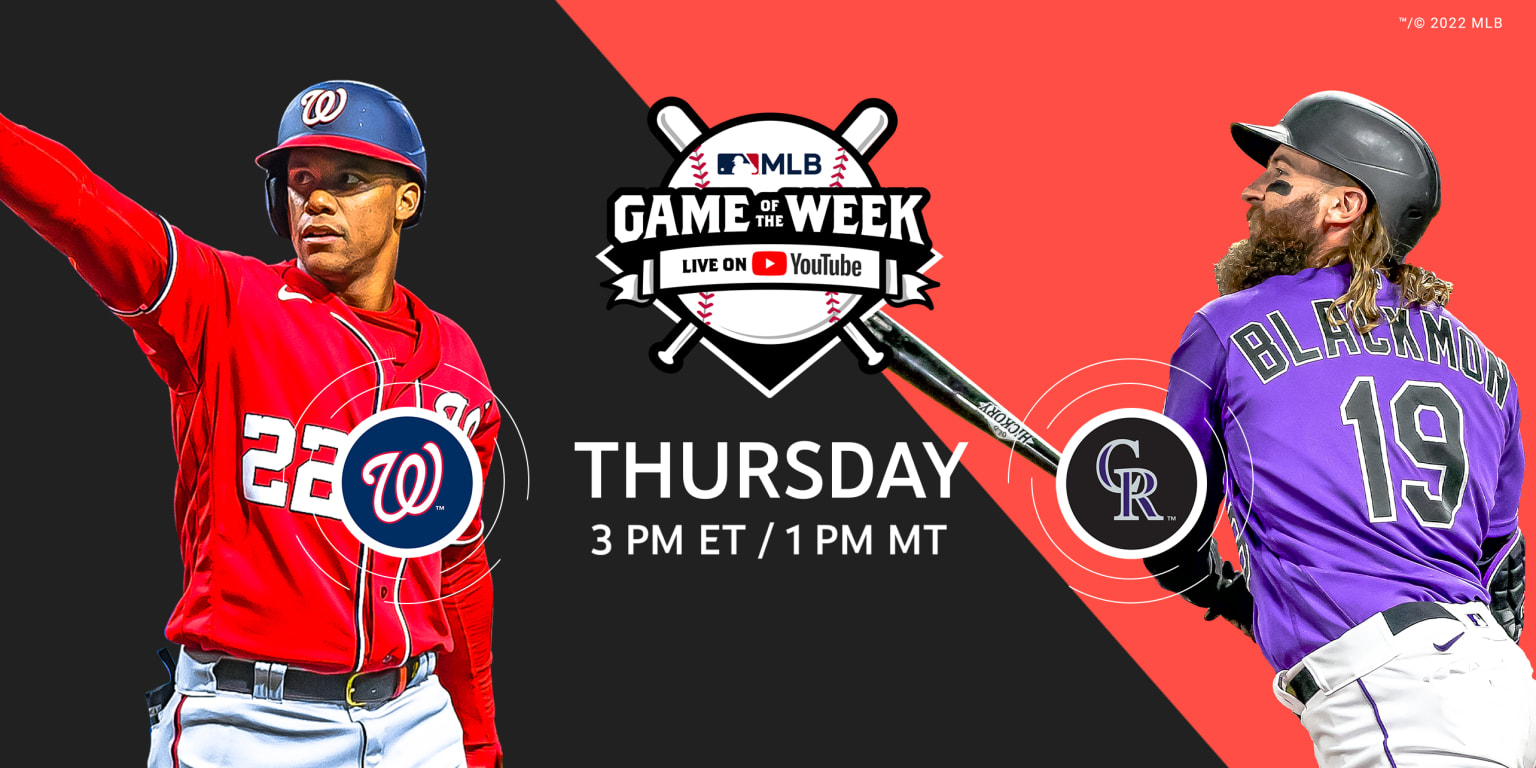 Watch Nationals-Rockies on YouTube May 5
MLB Game of the Week Live on YouTube returns for 2022, with 15 games throughout the regular season streamed live, free of charge, to fans around the world in 182 countries.
This season's MLB Game of the Week live on YouTube airs May 5 at 3:10 p.m. ET/1 MT, with the Washington Nationals taking on the Colorado Rockies at Coors Field.
Fans will be able to access every show for free from anywhere they can watch YouTube, including the free YouTube app on smart TVs, simply by logging into the MLB YouTube channel, or for YouTube members TV, on a dedicated channel via the app. Fans don't need a YouTube account to watch the games. Also returning for 2022 is the "YouTube Player of the Game", where fans watching on mobile devices and computers can vote for the standout player, who will receive a trophy on the post-game show.
MLB Network's Emmy-winning production team will produce all 15 shows this season, with play-by-play broadcaster Scott Braun and former MLB All-Star Yonder Alonso calling the games. Additionally, the MLB Game of the Week Live on YouTube Pregame Show will be hosted by MLB Network host and reporter Siera Santos and will begin 30 minutes prior to each game's scheduled start time and stream live on YouTube.
Several YouTube-only features will also be part of the productions airing this season, including live chat with in-game commentary from MLB superfan YouTube creators and in-game polls that keep fans engaged and connected with advertisers throughout. Fans watching on YouTube TV with a subscription will also have the ability to rewatch key related games at the exact moment they're watching and view real-time game stats.